Ratonhnhake:ton

Male


Kamar-Taj Student


Wolf

© Raton

3.75 years


Height: 34in


Posts: 120
AP: 6AP
Linked Accounts



Weight: 100lbs
There is always calm after a storm


Slowly he felt his anxiety ebbing away. It was hard to believe that he could feel remotely relaxed, even now that he was so far away from his brother and the pack he had grown up in. It was hard to believe the he could feel as free as he did now. The idea of talking or being around others still scent sparks of fear, sparks of anxiety and a yearning to disappear but slowly he was getting use to the idea. Kamar-Taj was a place that he felt he could be happy, could he really be happy, in. It was a place of healing and not of war. It was a place that offered teaching and offered sanctuary..A place that he was glad he could call home.

It had been a short few weeks since he had joined and already he was feeling like he could call it home permanently and the very idea brought warmth to his heart. While he loved the Pebble Shore he still felt the urge to explore and to go on solo adventures that might take him to new places and that was why he set out today. It was to explore, to find something new and different and expand on things. Recently he had learn of healing by magic and that you could speak to others through telepathy and that there was other magic but what those were he wasn't sure of - perhaps he'd learn some day.

Slowly the male made his way away from Pebble Shore and found himself in a different place, one he had yet to see. His grayish eyes swept across the land, taking it all in. Each land was very different then the next and it was interesting to see what the land held. The land he moved along in now was filled with springs. A small smile formed on his maw, this was a place of peace and it was something that he found comforting. Moving up towards one of the springs he gazed down into the clear water and saw that he could see to the bottom of it. "Truly what land here doesn't hold beauty..." he muttered to himself as he watched the water. Lifting a paw he batted at the surface gently, a ripple following each touch he made to the surface. Drawing back he watched the ripples until the faded to stillness once more.


"He Speaks"
---
OOC ⟶ OOC

Healing: 0/2 | Psychic: 0/2
Wolf Stock by Bine G.@Dawnthieves | Table by Silverfrost
>
---
The Tragedy of Life is not Death but what we let Die Inside of us while we Live.
*Ratonhnhake:ton has a feathered earring on his right ear.
*Please note that when rping with this boy he is a very nervous, anxiety driven boy.
Ratonhnhake:ton now has this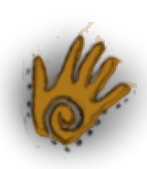 mark on his left of this (#ab751a) color