Ratonhnhake:ton

Male


Kamar-Taj Student


Wolf

© Raton

3.75 years


Height: 34in


Posts: 101
AP: 80AP
Linked Accounts



Weight: 100lbs
Silver and Gold
Ratonhnhake:ton

quote
---

Ratonhnhake:ton sat on the cliff, his silvery gray eyes fixated on the dark, starlit, sky. He wasn't quite sure why he was here but part of him just wanted to be alone. Life had changed and changed quickly. It had changed for the better, he was no longer cowering in fear of what his eldest brother might do.. No he was able to hold his head up and not fear a tongue lashing or worse, teeth and claws. The male thought back to his homelands - not once , since leaving them, did he miss them. Not once did he wonder what it would be like had he stayed for there was no 'what if' when it came to that, the what if was death. Before it could have been an option but now he felt as if he wanted to live and wanted to do things.

The wolf's fur fluffed up when the wind picked up, stirring everything around him. It was peaceful on this pass, peaceful and dangerous at the same time. One wrong step and over the edge he would go. At this thought the wolf dropped his gaze from the sky and looked down. It was strange, heights didn't bother him one bit. It, in fact, made him curious. If he could fly.. If he was a bird or had wings .. would he dive off the edge and soar down, down, down? Picking a paw up he hovered it in the air before setting it back down next to his other. How I have changed... he thought to himself.. While he was still nervous, still shy, still unlikely to smile or wag his tail or be the first to talk, he had changed. He had become braver and was now doing things that he didn't expect that he would have ever done before.

Perhaps... Just maybe, he would be able to face Katon now. His fur bristled at the thought but his heart remained calm. Part of him yearned for the brotherly affection that the three of them had had once before but another part of him didn't wish for anything more than he had. He had a home, those he could consider friends, he was able to heal others if the need for it arose.. Yes, things were almost perfect now. His heart seemed to warm at the thought, life really had taken a turn for the better.

Shutting his eyes , a peaceful smile spread across his muzzle. This world was beautiful, strangely addicting and filled with such wonders the one could never even guess at what one might find next. Opening his eyes, he returned his gaze to the sky the was growing increasingly brighter as the sun began to take it's place in the sky. "I suppose it is time to return home" he told himself quietly and got to his paws, casting one more look towards the sky.


---
"Speaking" | Magic

OC--


Stock by Kati.H and textures from Pixabay
---
The Tragedy of Life is not Death but what we let Die Inside of us while we Live.
*Ratonhnhake:ton has a feathered earring on his right ear.
*Please note that when rping with this boy he is a very nervous, anxiety driven boy.
Ratonhnhake:ton now has this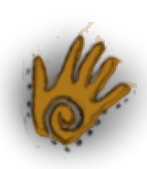 mark on his left of this (#ab751a) color