Ratonhnhake:ton

Male


Kamar-Taj Student


Wolf

© Raton

4.25 years


Height: 34in


Posts: 128
AP: 26AP
Linked Accounts



Weight: 100lbs
It's Heaven sent.
Ratonhnhake:ton
The Tragedy Of Life Is Not Death




Lately Ratonhnhake:ton had been thinking; thinking of his home, his past and of a Rumiko. His heart broke for her, her life had been turned upside down because someone had tried taking her child and she was ultimately forced into a realm lest she loose her child for good. The male felt an urge to protect her, a surge of what felt like anger in her behalf. He wanted to help but wasn't sure how he could help her, how he could make things better.

The wolf was once more slipping away from his home. He loved the idea of having a home and not being tied to it. He loved being able to go back and rest and then venture off again and explore the world. Since his coming to this strange land the male had experienced new things and loved every bit of it and even felt himself growing in ways that he never expected to. He was able to comfortably talk with others - although he still preferred to be silent and wasn't as skittish as he was before. He was more confident in his ways.. He often wondered if it was due to his feelings for Rumiko or if this land just changed others in ways they never thought.

He padded silently through the flat lands his fur fluffing up against the chilling wind. Fall had settled in and soon winter would be upon the lands. If he was honest - he loved the fall weather.. Not to cold and not to hot, it was perfect. Looking around the male found himself to be alone and came to a stop before sitting down and drawing in a breath. This would be a nice place to meditate.

The birds song and the sound of the wind rushing through the tall grass was soothing. Shutting his eyes the male's breathing soon became even and his thoughts drifted away from him. Since learning how to meditate, the wolf found himself loving it. It was a way to calm himself, get rid of the bad thoughts, clear his mind and bring in a comforting and warm feeling.

The sound around him soon began to blend together before he drifted into a state that seemed as if everything was silent. His body was still there but his mind had drifted far away.




But What We Let Die Inside Of Us While We Live
He Walks. "He Talks."
---
The Tragedy of Life is not Death but what we let Die Inside of us while we Live.
*Ratonhnhake:ton has a feathered earring on his right ear.
*Please note that when rping with this boy he is a very nervous, anxiety driven boy.
Ratonhnhake:ton now has this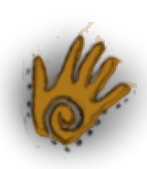 mark on his left of this (#ab751a) color