Staff

Other


Administrator


Other

© Staff

-- years


Height: --


Posts: 2,529
AP: 2,068.5AP
1 Attached Account



Weight: --
Corn Maze
CORN MAZE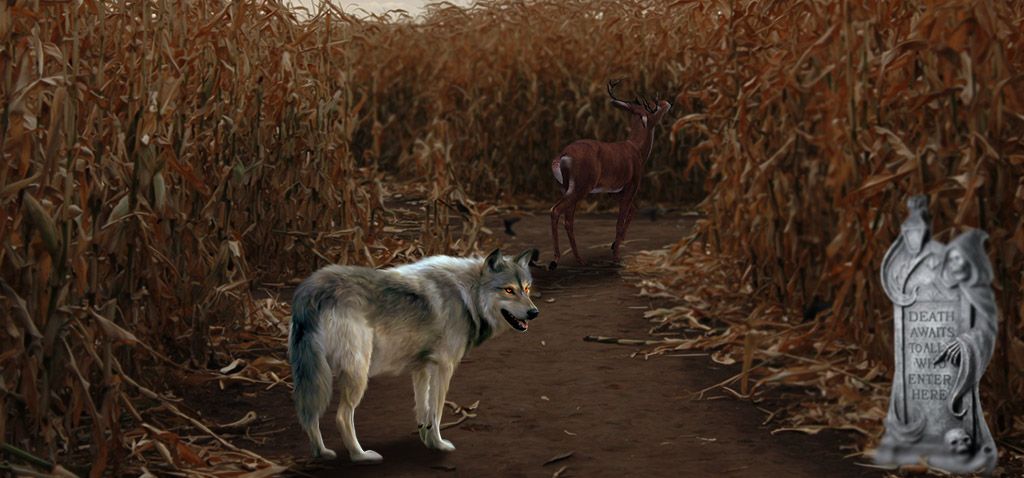 Click here for the maze.


As the sun starts to fade, you see a thick field of corn you've never noticed before, settled in a once open area. As you approach, you can see a path carved into it. You walk forward to investigate and are overwhelmed by the sheer height of the stalks. An eerie feeling creeps up your spine. Do you enter?

How do I participate?
Choose a character and post them entering the corn maze. Staff will roll for injuries and post the results on this thread. When you've completed the above puzzle, PM it to the Staff account and wait. We will verify that it is correct and roll for your injury and what your character will find at the end of the maze. Once we post it, you may post acting out your character solving the maze IC (vaguely) and finding their prize.

How do I Do the Maze?
Take the provided picture and edit it in paint, photoshop, etc. Or you can even take a picture of it. We don't mind!

What are the injury odds?
Characters over 1.5+ years will have the same injury odds as a moderate hunt; characters under 1.5 years will have the same odds as a difficult hunt.

What are the rules?

Enter one character per roleplayer.
There is no posting order.
Do not help each other solve the puzzle.

What are the prizes?
There are 10 possible prizes. Once you PM Staff the completed puzzle, we will verify that it is indeed solved and then we will roll your prize!

1. Free Elemental Level
2. Free LVL 3 Unique Power
3. Free Immortality (150 posts still required)
4. Free LVL 4 Unique Power
5. Free Feat
6. Immortality Discount
7. Free LVL 5 Unique Power
8. Free Elemental Upgrade
9. Free Elemental Jewelry
10. Free Elemental Level

What's the Deadline?
This event will end on Oct 31st @ 11:59 PM.

NOTE: If a character posts here, they may not post at the trick or treat event.

---